Bubbles, Burgers, and Beer – Huge Success
This fundraiser brought to you by the letter B!
Huge success at #KamloopsBubbles, this past weekend! We earned just under $800 and received nothing but smiles and high fives!
Many thanks to the exceptional volunteers making sure the beers were cold and games were played on time. No shortage of these young leaders that night.
Huge thank you to Soccer Quest for making this, at all, possible. Dave accommodated to all of our requests and even built a bar in due time. They actually hold a bubbles drop-in every Sunday night!
Huge thank you's to our sponsors Helen Ralph Real Estate
for the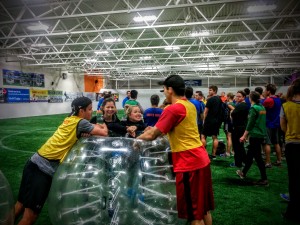 food, Swiss Chalet for the Chicken Meal voucher prize, and  Tylair Aviation and their Scenic Flight Tours were there for the 1st Place Prize!
This cannot be possible without the teams and players from all parts of Kamloops. We had an extremely tight tournament right to the last goal. At the end of it all KPMG was named this year's winner of Kamloops Bubbles Champions!
Thanks to everyone that came out and hope to see you next year!